Update to the Update: Bryan Harsin and Auburn are Making the 2022 College Football Offseason Season Decadent Drama
At the time of this writing, Bryan Harsin is still the head coach of the Auburn University football program. In the era of twitter and 24 hour sports news television the offseason can be almost as compelling as the games themselves. The big three year-round-news sports are the NFL, the NBA, and College Football, typically in that order but maybe not for long. This year, the college football offseason has had daytime TV level drama and palace intrigue bordering on early series Game of Thrones. 
They finally fired him! Why did that take so long?!
I wrote that opening paragraph in February of this year and, somehow, it is still true today in August. In the intervening months, Harsin hid from the angry mob of Auburn boosters on vacation in Mexico, and like all career embattled white men, started a podcast. It seems the allegations of improper relations with a staffer might have been baseless. His prickly relationship with the local media did him no favors in dousing the flames of rumor.
His current staff are all leftover Boise coaches and his one ally on the Plains, athletic director Allen Green, was fired resigned. It's really hard to imagine him surviving as the head coach of the Auburn Tigers into 2023, but I also believed it to be unlikely he'd make it this far. You do you, Bryan.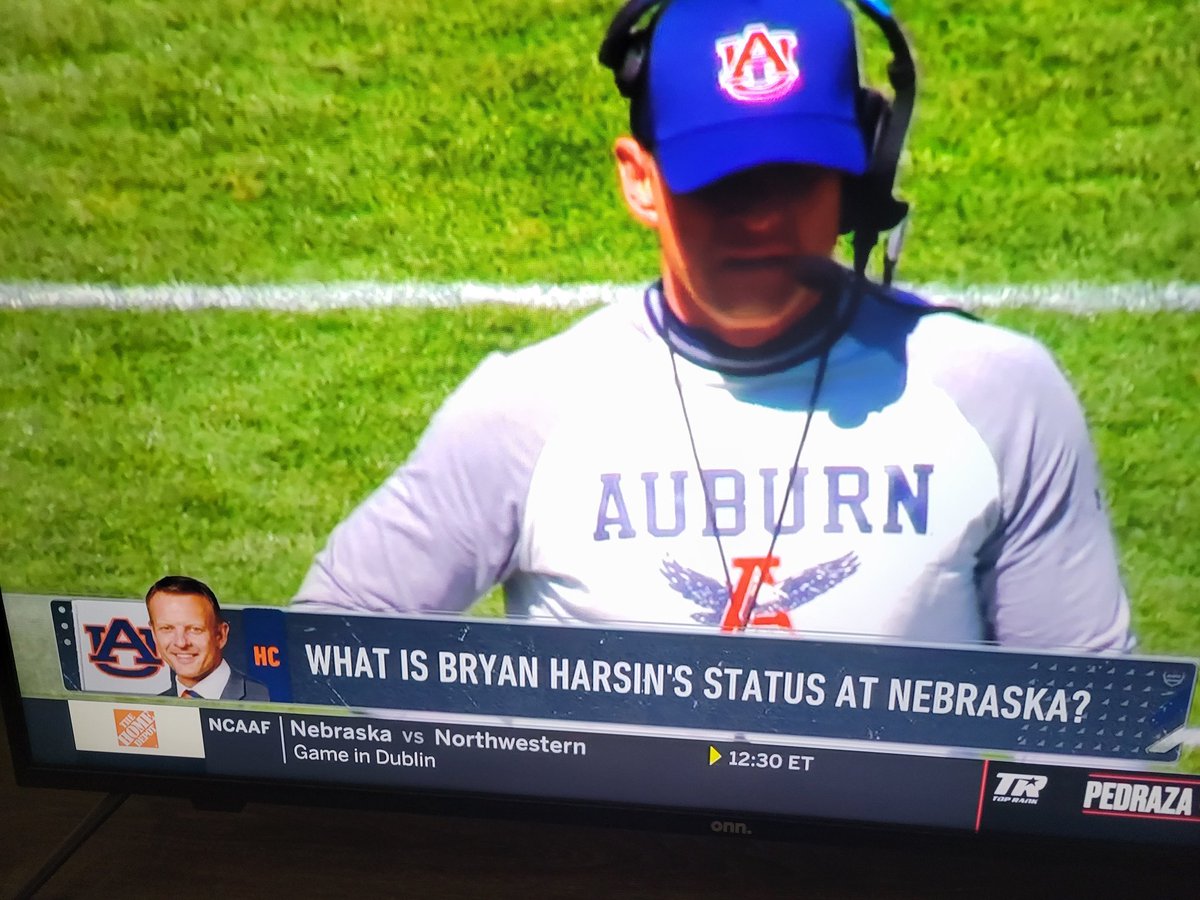 The 2022 College Football Off-season is on Full Tilt
There are the obvious big moves of Lincoln Riley and Brian Kelly leaving their previously thought to be "destination jobs" in the middle of the night for greener pastures and bank accounts at institutions desperate to both win and make a splashy hire. Then there is the will-they-won't-they of Jim Harbaugh and the NFL, and the fallout of those actions on his staff. There is the perpetual cat-and-mouse game of James Franklin, his agents, and any job opening further enriching himself at the expense of Penn State, but none of that compares to what is going down on "the Plains."
I put "the Plains" in quotations because it's both nonsense and a deeply held belief, which is perfect for Auburn University. "Sweet Auburn, the loveliest village of the plain," is the opening line to Oliver Goldsmith's poem, The Deserted Village, which is interesting on multiple levels, considering the poem is about a deserted village and Auburn, AL is surrounded by woods, hills, and lakes rather than flat grassland.
Nevertheless, they run with the "plains" motif. The school newspaper is The Auburn Plainsman, there is a Plains Church, an Auburn Plains Cemetery, and so on. Longtime readers will know most of the writers here are fans and graduates of Auburn's chief rival in sports, but I promise I am trying to be as unbiased as I can when I tell you the "Auburn family" latches on to weirdness like it's a natural force.
I'll give one more example before we deal with the Bryan Harsin of it all. During the 2021 Iron Bowl, a game in which Auburn lost, their football team started copying the celebration of Alabama's wide receiver John Metchie. Metchie had recently watched The Karate Kid and decided to do the film's crane kick as a celebration pose to both honor his asian heritage and also because it seemed like a fun and cool thing to do.
While the Tigers were winning, they adopted this celebration as some good natured ribbing in a rivalry game, something very normal and sensical. However, as stated before, they did not win, and upon victory in the fourth overtime the Crimson Tide reclaimed the celebration, down to the kicker crane posing in front of the Auburn student section.
Story over, right? Wrong, for some reason the #1 rated Auburn Men's basketball team has started crane kicking after they beat Alabama in basketball, even the coach is in on it. In other words, we have new "plains," something that should be embarrassing and doesn't make logical sense is being held on to as doctrine.
The Bryan Harsin Question
Now that all of that is out of the way, what is going on "on the plains?" It's hard to find one great source, so I will do my best to compile all of the different clues and pieces here. The short version is that Bryan Harsin seems to be in some hot water, by his own making or from without.
Currently the allegations and rumors are as follows: Coach Harsin is having an affair with a staffer who he first met at his previous tenure in Boise while she was still an undergrad cheerleader; the program has been through five different coordinators in his first year including an offensive coordinator who resigned after only one month on staff; several players have entered the transfer portal, which isn't that odd nowadays, but the caliber of player and the things they have to say on the way out are certainly out of the ordinary.
Auburn football legacy quarterback, Bo Nix, was one of the players to enter the portal. He landed at Oregon, ironically his first opponent as a college starter. Receiver Kobe Hudson says he was kicked off of the team. Defensive tackle Lee Hunter, who also transferred, said the players were "treated like dogs" in a social media post that was liked by several of his teammates.
Harsin also seems to not have as much institutional support from the donor class as one might think. According to sources, a lot of the big money players in Auburn wanted him gone before the season even started, and were taken by surprise when the athletic director hired him.
This is all after his dodging of questions about his vaccination status and his teams lagging vaccination numbers last year. The state of Alabama paused enforcement on the federal vaccine mandate before any actions could be taken against Harsin, but it stands in stark contrast to the efforts across the state with how coach Nick Saban handled the vaccine rollout.
Some players have rallied around the embattled coach, but this is college football and the decision makers rarely take the desires of their labor force into consideration unless it is to bolster a position they were already inclined toward.
The fans that are most "online" seem to be supportive of Harsin to an unhealthy level. They believe (somewhat correctly) that there is a grand conspiracy out to get him, but if there is, it's unclear whether Harsin is aware that his behavior and winning percentage are helping or hindering it.
Things are moving so fast now that while I was writing this piece, Auburn released the official statement below. I don't know about you, but things aren't looking great for the ball coach.
The Auburn administration is judiciously collecting information from a variety of perspectives, including from a variety of perspectives, including our student-athletes, and moving swiftly to understand any issues in accordance with university policies and procedures," Auburn said in a statement. "Decisions regarding the future of Auburn and its athletics programs, as always, are made in the interests of our great university and in fairness to all concerned. We do not make institutional decisions based on social media posts or media headlines.

Auburn University
This article was updated on 08/29/2022